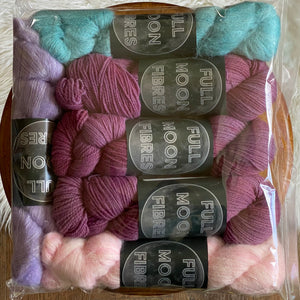 Satellite Shawl Kit (Cosmos, Peony, Lakeside Dreaming, Lilac)
We've had so much fun knitting the Satellite Shawl by Andrea Mowry that we made some kits so you can do the same! This is a triangular shawl that starts from one corner and alternates between 3 stitch patterns; garter striping, brioche and short row garter stripes! This shawl is so soft and cozy to knit, the Rambouillet plumps up as you knit with it and the Moon Dust Suri is so soft and airy making a beautiful shawl to wrap yourself in this winter!
The pattern is not included with the purchase of the kit but you can purchase it through Ravelry or Andrea's website.
You can purchase the needles for this pattern from here (3.5mm)
This kit contains:
3 Skeins 100% Rambouillet (Fingering)
100% Rambouillet (250 yds/ 50 g)
in the colourway: Cosmos
3 Skeins Moon Dust Suri
74% Baby Suri Alpaca 26% Silk (328 yds/ 50 g)
in the colourways: Peony, Lakeside Dreaming, Lilac.
Notes:
Due to the wonderful and interesting nature of hand dyed yarns, there is lots of room for variation within each colour way itself and for each base that the colour way is dyed on.
For each update, we include new photos of every available colour way in order to provide reference for how the yarns will appear in person. However, please note there is still a possibility that your yarn will not look 100% like the photo (monitor screens may vary). We promise to try our best to accurately portray each colour way in our photos.
As mentioned above, each skein of hand dyed yarn tends to be a bit different. If you are starting a project that requires more than one skein, in the same colour way, we recommend alternating skeins as you knit or crochet. If there is a colour way that you would like to have in a larger amount, please contact us at fullmoonfibres@gmail.com and we would love to help you with that! We will specifically dye a larger quantity all at once for you.
Our yarn is dyed using acid dyes and should be hand washed/soaked in cold water using a wool wash (i.e. Soak, Eucalan, etc.) and laid flat to dry. Minor color bleeding may happen with some colour ways during their first soak. This is normal and even happens with commercially dyed yarns. If you have any questions or concerns, please email us at fullmoonfibres@gmail.com.
This listing is for 6 skeins.
All yarns are hand dyed by sisters Allison and Jessica in Barrie, Ontario, Canada.
All prices are in $CAD.
---
We Also Recommend