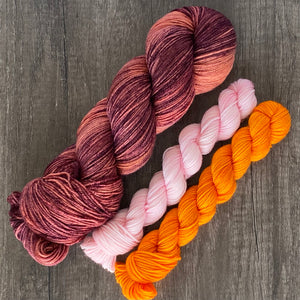 Keeping it Reel OOAK #1 with Citrus & Peony (Solar Sock Set)
Welcome to our newest little series of yarns...the Keeping it Reel series! A new addition will be added to this collection every time one of us dyes a OOAK (one of a kind) colourway and film it as a reel for Instagram. This beautiful set is our first OOAK sock set for the series! *You may not receive the exact sock set pictured for this listing but it will be similar (while also unique) because they are all from the same dye lot.
Solar Sock (Main Skein)
80% Super Wash Merino 20% Nylon
420 yards/115 grams
Sock/Fingering weight
Solar Sock Mini (x2) 
80% Superwash Merino 20% Nylon
73 Yards/ 20 grams,
Fingering/ Sock
Notes:
Due to the wonderful and interesting nature of hand dyed yarns, there is lots of room for variation within each colour way itself and for each base that the colour way is dyed on.
For each update, we include new photos of every available colour way in order to provide reference for how the yarns will appear in person. However, please note there is still a possibility that your yarn will not look 100% like the photo (monitor screens may vary). We promise to try our best to accurately portray each colour way in our photos.
As mentioned above, each skein of hand dyed yarn tends to be a bit different. If you are starting a project that requires more than one skein, in the same colour way, we recommend alternating skeins as you knit or crochet. If there is a colour way that you would like to have in a larger amount, please contact us at fullmoonfibres@gmail.com and we would love to help you with that! We will specifically dye a larger quantity all at once for you.
Our yarn is dyed using acid dyes and should be hand washed/soaked in cold water using a wool wash (i.e. Soak, Eucalan, etc.) and laid flat to dry. Minor color bleeding may happen with some colour ways during their first soak. This is normal and even happens with commercially dyed yarns. If you have any questions or concerns, please email us at fullmoonfibres@gmail.com.
All yarns are hand dyed by Allison and Jessica Hendry in Barrie, Ontario, Canada.
All prices are in $CAD.
This listing is for one set (one full skein and two mini skeins).
---
We Also Recommend